Cono sonoro su DESIGNBOOM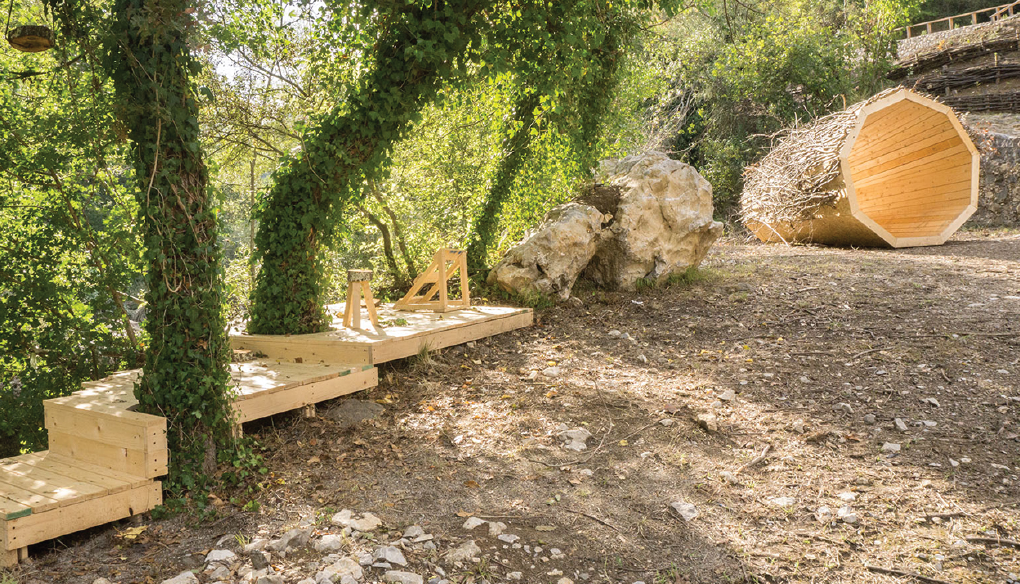 Il cono sonoro è su designboom.
---
Testo integrale   |     LINK
TRANSLUOGHI is a traveling residence in Cilento's cultural landscapes, started from Morigerati, south to Salerno, between August and September 2016, and made up by the platform Recollocal. The Ex-Foundry's area and the MUM's area, in Morigerati, have been involved in some intervenctions – that inclueded objects and devices – trough the landscape design LAB, that worked on performative relationships between nature and culture, using sound and design.
The "Cono Sonoro" is a self-built device that amplifies the Bussentino River's sound and the Cilento's National Park's birds' tweeting. It's also a refuge to meditate in by observing the Ex-Foundry, and an art installation for the MUM – Museo Ugo Marano, that comunicates with the sculture "Tavolo del Paradiso", made by the poliedric artist from Salerno. In a place where nature, memory, art and absence are "precences", the Cono Sonoro fits like a sweet mark that celebrate a space of interaction. Projected by architects Liviano Mariella and Giuseppe Avagliano from Recollocal, and the designer Sebastiano Pirisi from Studio Superfluo, it takes inspiration from the Giant Wooden Megaphone made by interior architecture students at the Estonian Academy of Arts, and it has been realized in collaboration with 30 architects, designers, engeneers, gardeners and students (the full list is at the end of the article). Some pieces of the Cono's structure were cut by a DIY CNC at the Steam Port Fablab, in Sapri, with the designer Attilio Mandola. Many other diffused installations were possible thanks to the tutor, designer and facilitator Peppe Frisino from Labuat, and realized by the same group that made the Cono; who worked on accessibility, fruition, gaming, meditating and observing the river through ramps, platforms, seasaws, having to deal with the irregular morphology of the land.
Wood, stones, branches and cords are the materials of the works. During the landscape design LAB the group had the chance to talk with Pasquale Persico and Pasquale Napolitano about the role and the function of the MUM – Museo Ugo Marano, the first contemporary art museum of Cilento that is involved in cultural and artistic production.
Project's group of collaborators:
vittorio boemio, federica cafaro, massimiliano capursi ,domenico ciaravolo ,cristina colicchio, antonio cutro, michela d'anselmo, giovanni de simone, annalisa falcone, nicola fierro, ersilia fiore, walter giovanniello, giancarlo guadagno, annarita iampieri, annabella langella, angelo licasale, marianna marozzi, francesca martucci, chiara mazzarella, elisa montone, andrea nolè, serena notarangelo, arianna palumbo, elena palumbo, luigi puglia, cecilia sammarco, ilaria spagnuolo, rossella tricarico.